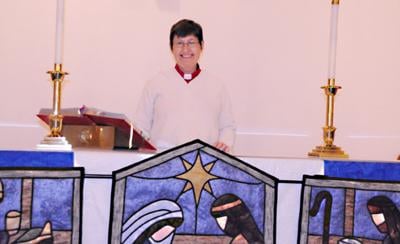 Kay Reeb has served as the Senior Naval Science Instructor of the Navy
Junior Reserve Officer Training Corps at Curtis High School in Staten Island, NY since 2015.
She graduated from South Dakota State University with a Bachelor of Arts in Psychology and a
Master of Education in Guidance and Counseling and then earned a Master of Divinity degree at
Luther Northwestern Theological Seminary. After serving as a Youth and Education Pastor for
nine years, Operation Desert Shield and Desert Storm broke out, calling many of her youth to
active service. Concerned over who would look out for them in the military, she joined the
United States Navy as a Chaplain in 1992. Chaplain Reeb was privileged to serve 14 years with
the Navy and 6 years with the United States Marine Corps.
Reeb joined the Navy in 1992 as a chaplain. The Peever native had been a youth pastor at Aberdeen's Good Shepherd Lutheran and later in Oakes during Desert Storm. Many young people there were in the Reserves, and she worried who would look after them if they were called up, so she joined too. "I was too old for the Army, and the Air Force said they had too many Lutherans," she said, "so I joined the Navy, and it's been wonderful."
She was part of a recruiting campaign by the US Navy to recruit Navy Chaplains.
In an article by David Rupkalvis Jan 11, 2013 in the Williston Herald it is written:
Kay Reeb was just a freshman in high school when she heard the news that would change her life — the American Lutheran Church had ordained a woman as a pastor.
At the time, Reeb was trying to find her calling, and that news laid the groundwork for a future of serving God.
"We were in a confirmation class back then," Reeb said. "Our pastor was pounding it into us that you have to find your calling because God has something for you. I remember staying at home and watching the news, and a report came on that they had ordained the first woman pastor in the ALC."
A short time later, Reeb told her pastor she wanted to serve God as well, and he was very supportive.
From that day, Reeb has followed God's call.
In October, that call brought Reeb to Williston when she became the senior pastor at Gloria Dei Lutheran Church, a move that Reeb says has been amazing.
"It's wonderful, especially with this congregation," Reeb said. "They are so eager, so willing and so enthusiastic about reaching out to the community."
That enthusiasm is easy to see as Reeb talks about her life and her role in Williston.
Reeb grew up in South Dakota but has traveled the world following God. After she earned a master's degree in guidance and counseling, she worked for a year in a campus ministry. She then went to school for pastor's training. He first job in a church was as a youth pastor.
Reeb and her husband Jim, who is also a Lutheran pastor, were content serving God in the church, but God had other plans. Jim Reeb is still in New Jersey, serving as an interim pastor.
When Operation Desert Storm broke out, Reeb felt a desire to serve the men and women in uniform so she became a Navy chaplain, a move she would have never imahined years before.
For the last 20 years, she has served in the Navy. During that time, she worked three years aboard the U.S.S. John Kennedy and served two tours in Iraq with the Marines. And she loved every minute of it.
"There are a lot of fun things about being a military chaplain," she said. "You provide for your own faith group, facilitate for all faith groups and care for all of them."
With the country in combat for much of her time in the military, Reeb said the men and women who turned to her for guidance were usually very serious about their faith.
"Whenever there are deployments and are men and women are going into harm's way, there's a lot more opportunity to deepen your faith," she said. "I worked with amazing people there."
During her time in the Navy, Reeb said her husband followed her around, often serving in interim posts when they moved to new areas. Last year, Reeb retired in New Jersey and began looking for her next place to serve.
That eventually brought Reeb to Williston and back to the Dakotas. And at Gloria Dei Lutheran, she is having a ball.
"I love this church," she said. "I'm so incredibly blessed to be here. I can't imagine a greater congregation to land in. There are so many kids. We have a Sunday school and a Wednesday school. It's a very open place, very inviting. They are always looking for ways to help the community, to reach out."
While the church has been a blessing, Williston has, too.
"I love it," she said. "It's a great place with really nice people. It seems like everyone has such a positive attitude. Yes, there are challenges with growing so rapidly, but most people are happy with it. There's a kindness in the community."
As a woman working in a ministry so dominated by men, Reeb admits there are some challenges, but she has never regretted her decision to follow God.
"Every now and then it's hard," she said. "Sometimes when you're in a non-traditional field, it can be challenging. But most of the time it doesn't take people long to get over that and then you're just a pastor or a chaplain."
As she continues to grow into her new position, Reeb said she is excited.
WMA is excited to have Kay as a member of WMA and for her to assume the duties of Chaplain.